viewSingleTCW - View and Query Single Species
GO Annotations
The contents of this panel will depend on how the database was built with runSingleTCW:
This panel will exist only if UniProt databases were used in annotation.
The Slim option will exist only if a GO_slim set was selected (not available in this sTCWdb).
The Enrich: row of options will exist only if GOseq has been been run (see runDE).
GO Terms may be assigned to a hit ID, or it may inherit a hit ID; see GO Help for details and All GO View.
In following image shows the enriched GOs for Rz (Rhizome) compared to Root (Ro), Stem (St) and Old leaf (Ol) at a p-value of 0.001. The #Seqs are the counts of DE (p-value<0.05) sequences for the respective GO.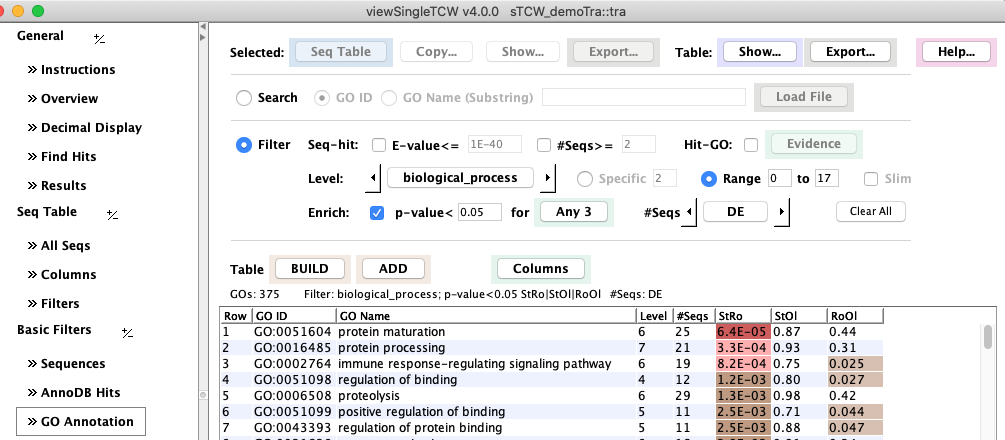 The decimal number display can be changed with Decimal Display (the above display uses color scheme #1 for the p-values).
The The 27 evidence codes are groups into 6 Evidence categories, which are defined on the Info popup. They can be filtered on by setting them in the Evidence panel (not shown).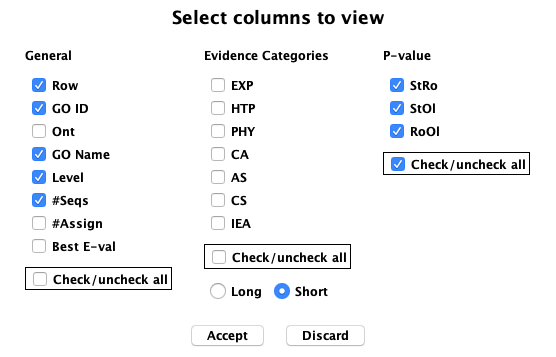 Show... has multiple options as shown on the right. Below are some examples.

The Export... beside it has the exact same option, where the results will be written to file, with a choice of All info or IDs only.

Table... has multiple options as shown on the right.